New [underline]standards[/underline] for health and cleanliness
After months of lockdown, travel is rebounding. But there's no denying that travel has changed. Health and safety are top of mind and travelers are looking for a quick, reliable ways to learn about what providers are doing to keep them safe. Read on for best practices to boost booking confidence.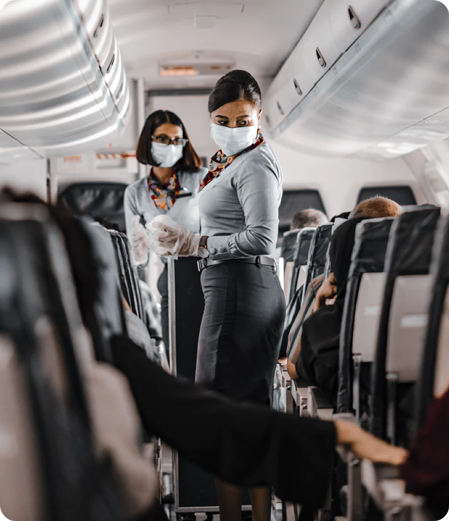 Give travelers reassurance when they [underline]need it[/underline]
Search behavior - with an increasing emphasis on booking closer to the travel date, desiring greater flexibility ,and traveling closer to home - indicates that the traveler mindset has shifted towards 'safe' travel.
To help put people's minds at ease, Expedia Group has been working with suppliers to surface additional details on the safety precautions being taken by properties, flights, and activity providers.
Whether it's mask mandates, social distancing on flights, or the enhanced cleaning practices by hotels, we're letting travelers know exactly what measures are being taken to keep them safe.
Cleaning and safety practices are displayed for
50%+
of properties
300+
airline carriers
Property health and safety [underline]measures[/underline]
Cleaning and safety practices
In order to give travelers the level of detail they're looking for to put their minds at ease, we've added more than 30 new sanitization attributes. Over 50% of properties are now using these sanitization attributes, including property chains like Hilton and Marriott.
For our template partners, highlighted attributes can be found at the top of the page with a full list of attributes further down in the property amenities section. EPS Rapid partners can access the information via the Content API. We recommend displaying these attributes alongside other property-level attributes for better traveler visibility.
Opportunities for displaying health and safety information on EPS Rapid
Add enhanced cleaning practices to the search results page in the popular filters
Prominently display cleanliness ratings and key cleaning and safety practices on the property details page
Show the safety and hygiene measures detailed in the amenities section of the property details page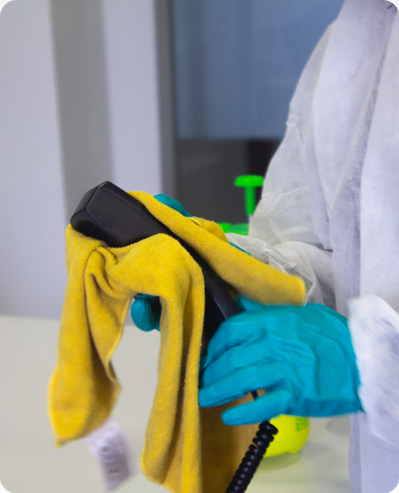 8/10
travelers will make accommodation decisions based on implemented pandemic measures.*
---
Source: Expedia Group Media Solutions - Traveler Sentiment & Influences 2020/21 study.
Ratings
User-generated cleanliness ratings are another good way to increase booking confidence. Travelers can easily identify which properties were rated highly for their hygiene practices.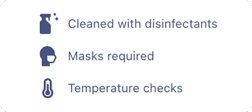 Flight health and safety [underline]measures[/underline]
For many, air travel is still a cause for concern. To help reassure travelers, over 300 airlines have implemented additional health and safety measures. Travelers can quickly identify the practices that are active for the flight they're interested in right from the search results page, along with any COVID-19 test requirements for flights into certain countries are also highlighted.
Activity [underline]health and safety[/underline] measures
Activity providers that are taking extra health and safety precautions are highlighted on the search page, with attributes added to the details page. On the details, page highlighted practices appear at the top of the page with a quick link to a full list of sanitization attributes further down.
In addition, a filter option and messaging has been added to the search results page, so travelers can quickly and easily find out which activities have additional safety measures.
[underline]Car health[/underline] and safety measures
Even while many travelers are seeing car rental as the safest transport mode amid COVID-19, hygiene is still top of mind. To address the need for transparency and reassure travelers when booking, car rental companies are sharing details about the health and safety measures they're following.
Travelers can easily identify vehicles with enhanced cleaning practices from the search results page and get even more details about cleanliness and safety measures at pick-up locations or on shuttles. In some cases, travelers can even opt-in for online check-in to have minimal contact and save time.